Premium Windows & Doors, Roofs & Floors
MAC Cabins provide high-quality, market leading, windows and doors across the entire cabin range and are included in our standard pricing.
All double glazing units are CE approved.
All joinery timber has been certified and dried to a moisture content of 5-7%, before being moulded, ensuring our windows and doors are designed not to twist or buckle.
CE certified double glazed 24mm glass package
German manufactured adjustable hinges and quality handles
High quality engineered glulam timber
Metal drip trays, windows normally x 2
Secure by design
Strong German locking system
Super quality window tilt and turn system
Why Choose MAC Cabins For Windows?
Windows and Doors are the most utilised part of any Log Cabin and therefore require superior quality products.
We provide quality Tilt and Turn double glazed windows and matching doors.
The Tilt and Turn windows come as standard with all 44 mm / 70 mm Log Cabins and have CE approved 24 mm Double Glazed Glass packages.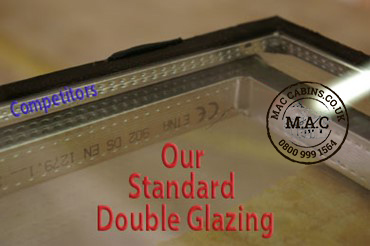 Why Choose MAC Cabins For Roof Purlins?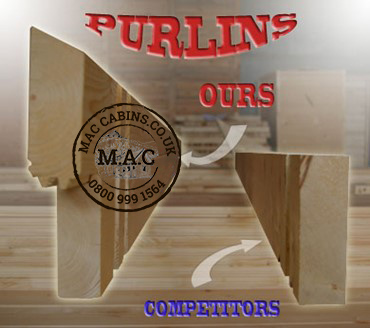 Our Purlin's are manufactured from slow gown spruce and constructed from two quality logs with different directional grains, making them incredibly strong. 
All are set in at 90 degrees on the apex and are 45mm x 250mm. 
This attention to detail makes for a superior log cabin, preventing sagging and inevitable failure of the roof structure.
Why Choose MAC Cabins For Flooring?
MAC Cabins use 28 mm standard economy flooring with 70 mm x 45 mm impregnated floor bearers.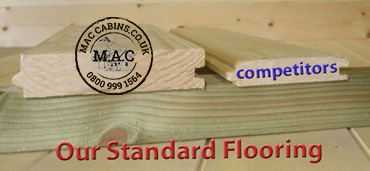 Region & Delivery Information
We offer free delivery across the South West Region of England for all of our cabins.
The South West of England incorporates mainland; Cornwall, Devon, Somerset and Dorset.  All other areas may be subject to an additional delivery charge.  Please contact us for further information help@maccabins.co.uk or call 0800 999 1564.
 Prior to ordering your cabin please be aware of the following conditions when ordering and advise us of any special requirements and restrictions, for the delivery date.
All MAC Cabins structures will be delivered on vehicles equipped with Hi-Ab crane facilities and/or Moffett forklifts.  This enables us to deliver your building safely and securely to your door step/kerb side/build site depending on access, without the need to open the sealed waterproof pack.
We appreciate that some areas of the South West have limited access, should this be the case, please call us to discuss an alternative delivery method. 
We recommend that at least two able bodied adults are present at the time of delivery, as the packages contain heavy items. Our driver will not be able to assist with moving the packages to the build site, therefore please be advised that in this circumstance we withhold the right to refuse delivery and charge to return and re-deliver the structure(s).  Should you require assistance to unload and move the packages to the build site, we would recommend that you contact us when placing your order as this can be arranged, subject to charges.
On the day of delivery it is your responsibility to be present to inspect the packages and then sign to state you have received the structure in good order.  We will not deliver should you not be there to sign for the receipt of goods, however, you may nominate a representative, but this must be contractually arranged prior to delivery.
Please note that it is your responsibility to ensure that there is suitable access and enough clearance to safely deliver the packages.  Please also be aware of overhead cables that may prevent the Hi-Ab from unloading safely.  No unnecessary risks will be taken by our driver and they may abort delivery it they deem it to be unsafe for any reason.  Again redelivery charges will be borne by you.
Once the driver leaves your property no responsibly will be taken by MAC Cabins for any missing or damaged items, therefore we urge you to check the contents and advise the driver before signing their receipt. Once we have completed delivery and the driver has left, the responsibility for stolen or damaged items lies with you.
Please ensure that your address is recognised by the mainstream Sat Nav systems and if not we recommend you use the 'what3words' App.
We cannot guarantee an exact time of delivery due to traffic conditions and/or any driver tachograph instructions.  We therefore state that the delivery date is an all-day appointment.   You will be advised by the driver in the event of any major unforeseen delays during transportation.
Please note a re-delivery fee will be charged if the lorry cannot gain access for any reason.  We also charge a waiting fee over the first 30 minutes and should any circumstance prevent us from delivering on the scheduled date, a surcharge will be payable prior to redelivery. 
Our delivery schedule is currently running at 8-10 weeks, however, we will aim to meet this target, but delivery dates are subject to variations due to circumstances outside of our control.  In the event a delivery date needs to be changed, you will be advised at the earliest possible opportunity.